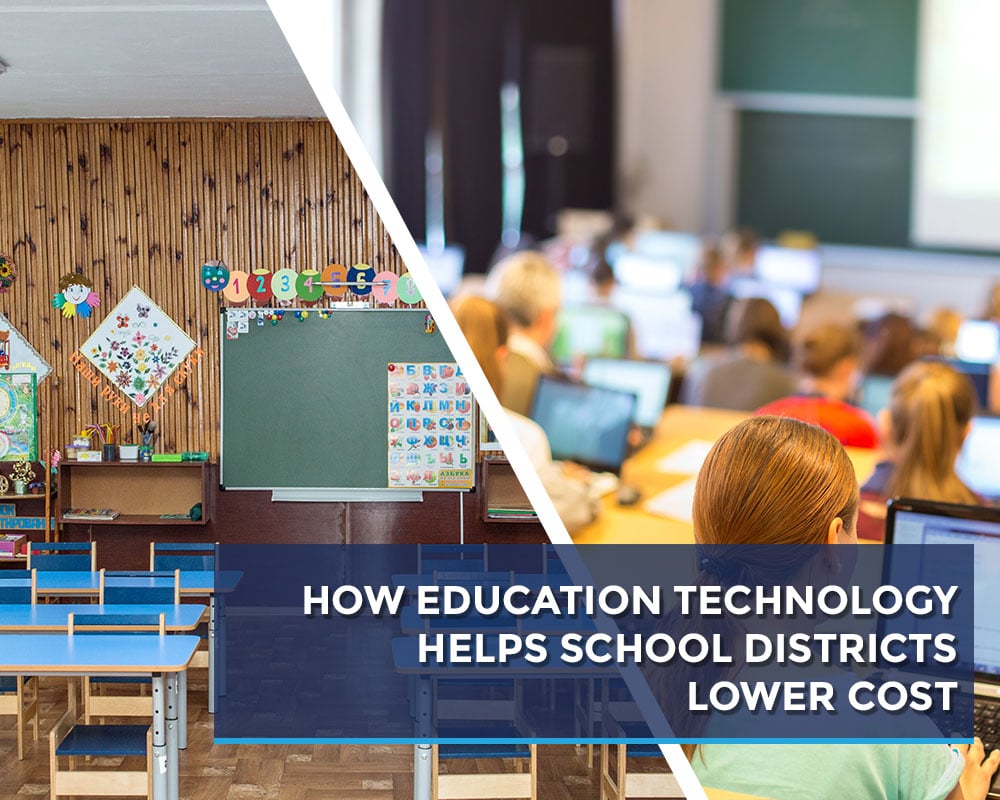 Cleveland school districts have a clear need to manage costs and improve the student experience. K-12 academic institutions often find themselves lagging behind in terms of technology, and it's understandable – between shrinking budgets and increasing demands, it can be very challenging to meet every need.
To guarantee the safety and success of the next generation, administrators must invest in improvements to the school system on a constant basis. As technology continues to advance and permeate more of our daily lives, communities expect schools to keep up.
This presents unique challenges to Cleveland school districts in particular. Chronic absenteeism is a well-known issue affecting local districts in the region, and it is one that points to pain points in the student experience as a potential cause.
Education technology is just one part of the picture when it comes to helping school districts tackle these larger issues. If administrators can spend less time, money, and energy merely running their schools, they can free up essential resources towards improving the learning experience for students and teachers alike.
Case-in-Point: The "I Promise" School
The educational environment in Akron, Ohio has been making headlines thanks to the activism of three-time NBA Championship winner and Olympic Gold Medalist LeBron James. LeBron's school, named "I Promise," is an unusual philanthropic exercise that offers extra-long school hours and extensive social support for at-risk students alongside a traditional public school structure.
LeBron James, who has called opening the I Promise school the "greatest moment of [his] career," offers amenities that depart remarkably from the usual public school format. Students receive free breakfast and lunch alongside access to a fitness trainer and even enjoy their own bicycle. James goes so far as to offer graduates full tuition to the local public college.
The fact that the I Promise school is a public school is an important one. Unlike other celebrity philanthropist education initiatives, I Promise is administrated by Akron's public school system. This makes it much easier to replicate its successes in other public school districts.
The key difference between I Promise and other public schools is its vision of community-building. Rather than limiting itself to academics, it seeks to push the boundaries of what schools can offer their communities.
This innovative approach has already reached the agendas of local lawmakers. Senators Sherrod Brown and Chris Van Hollen have introduced a bill establishing federal grants for community-school partnerships that replicate the I Promise model, minus the celebrity endorsement.
What We Can Learn from the I Promise School
It's easy to dismiss celebrity philanthropy with the argument that for a world-class athlete with a net worth of almost half a billion dollars, building a school is more feasible than it would be for real-life public administrators. But only a small portion of the school's funding comes from James.
For the most part, the I Promise school is a public school that uses public funding in the most efficient way possible. Districts that compound their investments in education technology so that they can do more with less and enjoy the freedom to help their communities prosper in the process can do the same.
Investing in state-of-the-art education technology makes these kinds of cost savings possible. Technology integration allows schools to spend far less meeting the needs of individual students while being able to offer much more.
• Managed Print Services. Schools need paper documents, and paper is expensive. But instead of simply limiting the number of pages students can print, managed print vendors can implement solutions for making print processes more efficient, reducing the cost-per-page for everyone in the district.
• Managed Network Services. Schools without modern network infrastructure have a much harder time connecting with students and offering best-in-class education technology to them. Deploying in-house infrastructure requires hiring IT specialists and maintaining servers, routers, and switches on-site. Managed network solutions provide all of these infrastructural necessities as an on-demand service.
• Automation. Teachers and administrators need to streamline their tasks and processes. Whether grading papers or scheduling entire school year calendars for thousands of students, the ability to intelligently automate digital workflows can significantly reduce the amount of time and effort that goes into keeping the school running.
Invest in State-of-the-Art Education Technology in Your School
Blue Technologies is a local expert provider of education technology consulting, services, and solutions. If public schools are going to match the level of community involvement the I Promise school delivers, they will need next-generation infrastructure to do so.
Investing today can offer unprecedented value to tomorrow's students. From simple amenities like secure campus-wide Wi-Fi to advanced cybersecurity solutions, the need for comprehensive technological expertise is a constant in today's academic environment.
It's time to start managing costs and delivering higher quality education. Blue Technologies can help you facilitate learning and start saving money today!