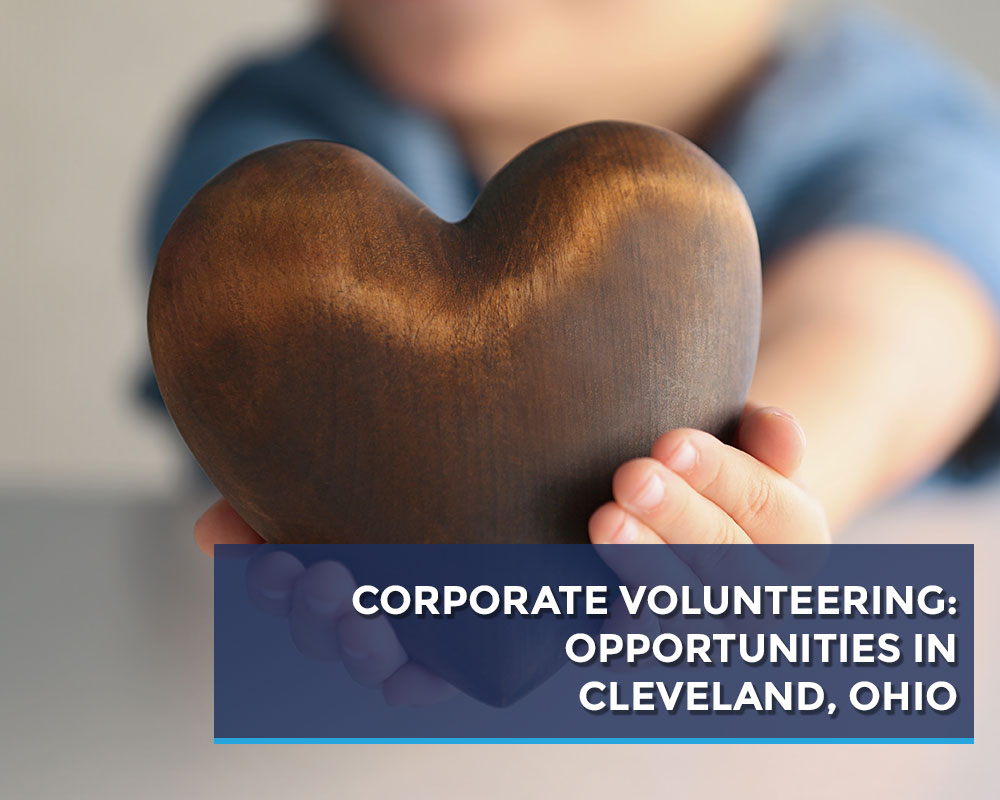 Corporate volunteering is a powerful and valuable way to strengthen any company. It gives employees, management, and executives a chance to share in a unified vision of corporate social responsibility and to put that vision into practice together.
Whereas a significant number of corporations see volunteering as an analogue (or even a substitute for) corporate team-building, the truth is that these opportunities offer much more. Not only does corporate volunteering give employees a team-building experience, but it also puts our team in touch with the needs of the local community and provides us with the opportunity to make a difference.
This appreciation for corporate volunteering as an intrinsic corporate value sets Blue Technologies apart. We give our team ample opportunities to participate in socially responsible initiatives and encourage giving to charitable causes that reflect our community's values.
Blue Technologies and Ohio Guidestone
One of our most important partnerships is our longtime collaboration with Ohio Guidestone formerly Berea Children's Home and Family Services. Since 1996, Blue Technologies has sponsored and supported the team behind Ohio Guidestone in several social initiatives centered around the lives of children below the poverty line.
Blue Technologies sponsors the organization's annual fundraiser, the Golf Club & Classic, which raises more than $175 thousand every year. This gives the organization the resources it needs to serve over 20,000 people in the state of Ohio, providing them with job training, addiction recovery, foster care, and mental health services, among many others.
As a community-oriented business, we make sure our team does more than sponsor Ohio Guidestone events – we encourage team members to participate in any Guidestone initiative they wish to. The opportunity to be able to give back to the community and to help the less fortunate is a privilege.
Blue Technologies Supports Local and National Causes Alike
While Ohio Guidestone is the non-profit organization with whom we work the most, and whose initiatives align closest with ours, they are not our only non-profit partner. Blue Technologies supports and sponsors a broad variety of social responsibility initiatives for the Cleveland, Ohio community and greater national beneficiaries:
• Alzheimer's Association. The Alzheimer's Association allocates 77% of its earnings to Alzheimer's care, support, research, awareness, and advocacy. It organizes national events like the Walk to End Alzheimer's.
• Bellefaire JCB. Bellefaire JCB is one of the largest and most experienced agencies providing child services in the United States. It features 25 separate programs helping more than 21,000 young people and their families every year with challenges like homelessness, mental health, and addiction recovery.
• Cornerstone of Hope. Cornerstone of Hope is a center for families to seek help with grief, loss, and depression in Cleveland, Ohio. It offers solace, social assistance, and counseling services to bereaved families coping with the loss of loved ones.
• Our Lady of the Wayside. Named after the Blessed Virgin Mary, patron saint of travelers, Our Lady of the Wayside supports hundreds of individuals with developmental disabilities and manages 90 homes throughout Ohio. It offers transport services to the disabled with a fleet of over 155 vehicles.
Cleveland Corporate Volunteering Opportunities
There are many options for corporate volunteering in Cleveland, Ohio. We encourage our team members, our corporate partners, and our customers to participate in volunteering opportunities throughout the region.
Anything that puts you in the position to make life better for a disenfranchised person is a worthwhile cause in our book. Some examples of charitable causes and institutions you can begin participating in today include:
• The Cleveland Clinic. This non-profit, multispecialty medical center offers both clinical and hospital care to its patients in the Greater Cleveland Metropolitan Area. It also invests in research and education and has earned the distinction of being a Top U.S. Hospital according to the U.S. News and World Report
• The Greater Cleveland Food Bank. Every dollar donated to the Greater Cleveland Food Bank transforms into four nutritious meals offered free-of-charge to Cleveland residents struggling with hunger and food insecurity. Founded in 1979, the Greater Cleveland Food Bank is one of the oldest charities fighting hunger in the metropolitan area.
Both institutions are always looking for volunteer help. Whether spending a weekend delivering food to Ohio's neediest residents or building the bridges of medical education to Ohio's homeless population, there is always work to be done.
Giving is the Greatest Gift
In our eyes and the eyes of our employees, there is no greater privilege than being able to help others. For those of us who are fortunate enough to live comfortably and to work productively in society, there is no greater opportunity to do good in the world than by helping those less fortunate.
Contact Blue Technologies to find out more about our corporate volunteering initiatives or to let us know of new opportunities to support the Cleveland community.